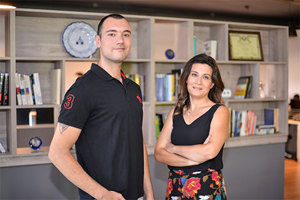 Company Culture
We work hard. We enjoy life. We succeed.
In 2007, we started broadAngle with the aim of providing a work environment where everybody is happy to work. Hiring smart people comes with the difficulty of keeping everyone intellectually challenged. We try hard to find projects that improve our staff and allow them to grow. We believe in constant improvement. Our ideal projects are those where we can share our team's expertise with our clients while giving each team member the opportunity to grow personally and professionally. Our ideal projects team resources with diverse levels of experience. This way, junior resources have the benefit of experienced, senior oversight, while experienced resources coordinate team members, and client's get the best characteristics of each.
We value hard work, but we also understand that people have lives outside the office. Because of this we discourage overtime and weekend work, requiring it only when it is absolutely necessary.
Our Vision is to be recognized among the best outsourced software development companies in the world.
Our Mission is to satisfy our customers' software development needs using our proven processes and expertise, allowing them to concentrate on their business.
We value respect, hard work, and our relationships with customers and coworkers.
Work Environment and Benefits
Our development office is located in the Aegean Free Trade Zone, close to shops and restaurants. We provide a comfortable work environment for our employees. We believe people are much more productive when they are comfortable and happy. We listen to our employees and do our best to satisfy their needs.
We provide on-going career development through challenging projects, cutting-edge technologies, mentoring from experienced team leads, and a wide variety of online courses.
We provide a meal card to our employees, and also keep the office stocked with snacks and drinks. 
Additionally, we sponsor company events such as company sponsored lunches, dinner parties after successful project deliveries, movie nights, and more. We believe social activities form stronger bonds between team members.
Internship Program
Every year, we recruit interns for business analysis and software engineering positions. We provide our interns an opportunity to work in real client projects with more experienced team members. Our interns always receive mentoring from the team leaders and learn about software development processes from true experts. Interns who succeed and fit well with our company culture are offered a position in our company after graduation.
---